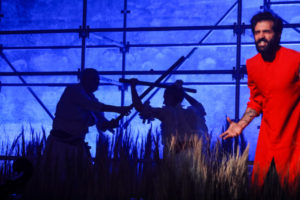 The ba-roq-stars at the Australian Brandenburg Orchestra are offering one enterprising member of Aikido in Sydney a double pass to the opening night of Bittersweet Obsessions next Wednesday. This is their newest show featuring instructors Melanie Lindenthal and Andrew Sunter — fighting . to . the . death! If you want to see the show, you only have to do three things:
write and send us between 100 and 150 words on why you do aikido by Sunday 22 October;
attend opening night on Wed 25 October (easy!);
commit to writing a further 100–150 words about the show once you've seen it.
Simple, yes? This is open to members of all ages (Aiki Teens, get on it!). To avoid any suggestion of favouritism your submission will be assessed by an independent panel.