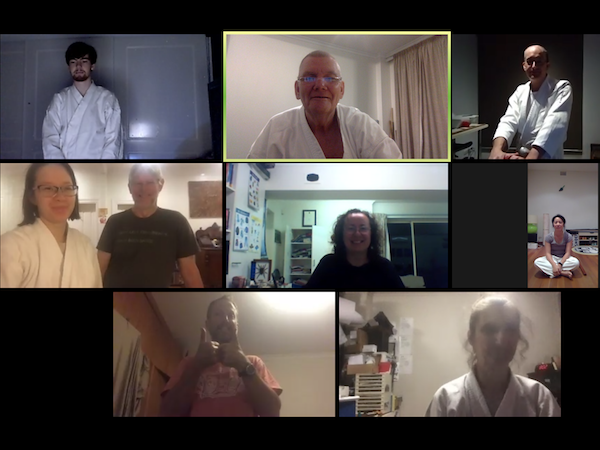 We're establishing good routines of regular training online from home while we're unable to train together at the dojo.
Below are some guidelines on how to set up at home to enjoy online training sessions safely.
Choose a space with:
adequate light for you to see what you're doing and be seen on video
adequate ventilation
sufficient floor space to practise: ideally 1.5 m in front, behind and to each side of you
sufficient space above you (especially for weapons training)
a stable, secure spot for the video communication device you're using for training, with any associated cables tidied away
Make sure your space is clear of:
slip, trip and fall hazards
objects that could cause injury if you lose balance and fall onto them
sharp objects and hot surfaces
breakable objects
electrical devices and cables you're not using for training
Take care of yourself before and during training:
have a water-bottle nearby to keep hydrated
manage temperature and airflow appropriate to your level of exercise
make sure the instructor is aware of any injury or medical condition at the beginning of each session
seek medical advice prior to training if you have any existing injury or other medical condition
Kids and teens
Parents, please monitor and assist kids and teens appropriate to their age. Kids and teens may require additional:
assistance in preparing a safe training space
adult supervision while practising
Other people
It's a good idea to let all household members know when you're training so they can avoid entering the space.