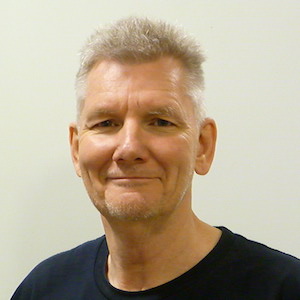 Head of School, Aikido in Sydney
Andrew Sunter began training in aikido in 1989. He holds dan ranks from three schools of aikido and received 6-dan from Koretoshi Maruyama Sensei (a direct student of the founder of aikido), who he often accompanied to seminars nationally and internationally.
Having trained in both hard and soft styles of aikido, Andrew today offers instruction in the way of aiki, providing students with a direct experience of authentic aikido. He provides individualised instruction appropriate to each stage of the journey. He uses, but is not bound by, the framework of syllabus through the vehicles of kata (technique), weapons, internal training and modern science.
Andrew has taught classes by invitation on his travels through Europe, UK and Japan, as well as teaching seminars around Australia and internationally including New Zealand and Singapore.
Andrew has trained in aikido continuously since moving to Lismore at the beginning of 1992 and joining Aikido Ki Society Australia. In 1996 he spent five months studying in Japan and training at the Ki Society regional headquarters in Osaka.
On his return to Australia he moved back to Sydney and trained for over two years at the Shin Sen dojo under Ken Mclean Sensei, with whom he had taken his first aikido classes in 1989.
Andrew opened a Ki Society dojo in Crows Nest in February 1999 at the urging of Iwao Tamura Sensei (9-dan, Ki Society).
Also in 1999, Andrew met Grant South (Palden) Sensei, Inkajo and founder of the Kufudokan. For over two years Andrew lived within the virtuous community of the Kufudokan, regularly training more than 20 hours per week in aikido and aiki-budo and studying Buddhist teachings under Palden Sensei.
The Crows Nest dojo decided unanimously to follow Michael Williams Sensei when he left the Ki Society and subsequently joined Aikido Yuishinkai in 2002. The dojo relocated to Camperdown at the beginning of 2004. An additional dojo operated in St Clair from October 2005 to November 2014.
Andrew was awarded 6-dan by Koretoshi Maruyama Sensei in October 2012.
In 2014 he formed the Great Ocean Aikido Community with Jim Nicholls (7-dan), John Ward (6-dan) and Danny James (6-dan). Aikido in Sydney is a founder member of the Great Ocean Aikido Community.