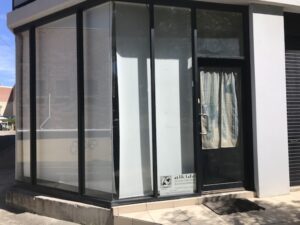 Low impact martial arts classes, aikido classes, atemi-jutsu classes in central Sydney – Aikido in Sydney
Home >> Contact • Schedule • Fees
Classes are held at Chapel Ln, Alexandria (corner of Spencer Ln)
Plenty of on-street parking (see below). Good train and bus services. Great coffee nearby for before class and plenty of options for lunch or dinner after training…




Driving – drop-off:
YES: Spencer Lane next to the dojo is a good place for drop-offs — there are no restrictions on stopping and there are places to turn around (it's a dead-end). Please don't park in the neighbours parking spaces — they are all labelled 'private parking'.
NO: Spencer Lane next to the park is marked "No Stopping".
NO: All of Chapel Lane is posted "No Stopping".
Driving – parking:
The left-hand side of Wyndham St near the dojo is mostly '2P 8am–6pm Mon–Fri' with some unrestricted parking. Unrestricted parking on the weekend.
The right-hand side of Wyndham St is a 'Clearway 6–10am 3–7pm Mon–Fri' with '2P 10am–3pm Mon–Fri' and '2P 8.30am–12.30pm Sat'.
If there are no spaces on Wyndham St try Rosehill St leading up to Redfern Station — veer left after the St Germain Cafe (cnr of Wyndham & Boundary Sts). There are usually spaces there outside office hours. There is a mix of unrestricted and '2P 8am–8pm Mon–Fri'. If you don't see a space there continue round past the station and come back down Cornwallis St. There are unrestricted spaces there. You can loop back to Rosehill St via Margaret St (no parking) or Boundary St.
Botany Road is ok for parking. Check the signs as there are a lot of different restrictions.
There are two or three sneaky unrestricted parking spaces in Little Wyndham St (first right turn off Wyndham St after Henderson St and before Chapel Ln). This is a dead-end. I think you need to drive to the end and then turn around to be able to park on the left as you head back towards Wyndham St.
Buses from the city:
Bus routes 301, 302, 303, 305, 308, 309
By train:
5 minute walk from Redfern Station. Exit the station at the southern end of platform 10 to save some time.
Car pool:
Many of our members like to car pool and live all over Sydney – come and meet them and we'll see what we can do about getting you home or to a major transport centre after class.
Nearby Suburbs:
Abbotsford • Alexandria • Annandale • Ashfield • Balmain • Beaconsfield • Birchgrove • Breakfast Point • Broadway • Burwood • Cabarita • Canada Bay • Camperdown • CBD • Chippendale • Chiswick • City • Cockatoo Island • Concord • Croydon • Darlington • Drummoyne • Dulwich Hill • Enfield • Enmore • Erskineville • Eveleigh • Five Dock • Forest Lodge • Glebe • Haberfield • Homebush • Leichhardt • Lewisham • Liberty Grove • Lilyfield • Marrickville • Mascot • Mortlake • Newtown • Petersham • Pyrmont • Redfern • Rhodes • Rodd Point • Rosebery • Rozelle • Russell Lea • St Peters • Stanmore • Strathfield • Sydney University • Summer Hill • Sydenham • Tempe • Ultimo • Wareemba • Waterloo • Zetland