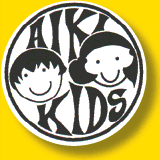 Aiki Kids classes are offered at Aikido in Sydney for girls and boys aged 8 to 12 years. Aiki Kids offers children an opportunity to embrace their inner samurai and learn real skills that develop confidence, concentration and calmness as well as fun physical abilities. It helps kids develop environmental awareness to keep themselves out of harm's way, and equips them with the skills to respond appropriately in uncomfortable and potentially dangerous situations.
Term enrolment or tryout session

Enrol now!
Classes for Aiki Kids are held on Mondays from 5.45 to 6.45 pm at our Camperdown dojo in Sydney's Inner West. This term this class is integrated with the Aiki Teens class.
Fees are $150 per school term (pro Rata for mid term starters)
The Aiki Kids program offers children the opportunity to learn the principles and practice of Aikido at an age-appropriate level.
Aiki Kids classes focus on:
Improving strength, balance and coordination
Tumbling skills
Calmness, focus and stability
Mutual respect, self-discipline and cooperation
Personal safety
Important
Please arrive 10 minutes early so class can start on time.
Kids must wear shoes to the dojo door.
What to wear
Wear loose and comfortable clothing that covers knees and preferably elbows (but a T-shirt is fine). We can provide a gi (training uniform) when you're ready.
Our commitment
We have years of experience teaching kids and teens and we use that experience to ensure your child not only benefits greatly from training with us, but also has a great time doing it.
We provide a safe, appropriately challenging and mutually respectful environment to support students in learning at their own pace. Our training is non-competitive and non-aggressive.
Instructors are accredited coaches certified through the Australian Jujitsu Federation under the National Coaching Accreditation Scheme administered by the Australian Sports Commission.
Instructors comply with the requirements of the Working With Children Check administered by the Office of the Children's Guardian.
Endorsement
The parent of a former student says:
"The Aikido kids classes are so fabulous. My daughter learned so much about life in them. There are just not many places kids get to learn to be still, focused and graded on performance. Kids seldom get to fail or be told they need to work harder in this new world and it is vital to them learning to be resilient. The long term goal and slow progression to something important (belts) is something the kids don't get in any other setting. I think it's vital. It's a life lesson I think they look back on and get value out of long after they are in Aikido class."