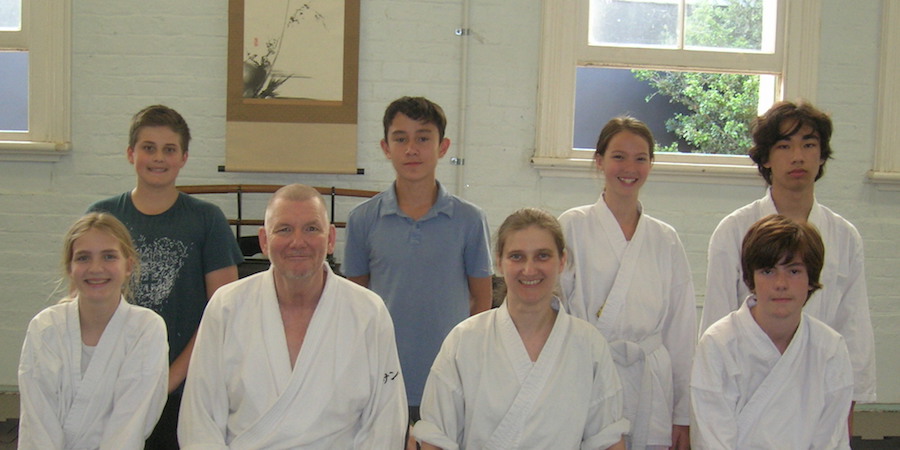 Make new friends, throw them on the floor!
Term enrolment or tryout

Enrol now!
Classes for Aiki Teens aged 12 to 16 are held on Mondays from 5.45 to 6.45 pm at our Camperdown dojo in Sydney's Inner West.
The Aiki Teens program has been developed for high school students who are too big for Aiki Kids class but not yet ready for adult class. While it is just as much fun as the kid's class, it is just as serious as the adult class. It offers teens the opportunity to learn the principles and practice of Aikido at an age-appropriate level.
We empower students to develop at their own pace in:
aikibody – core-strength, posture and coordination
presence – self-awareness, self-discipline and self-confidence
ukemi – the art of working with others (and taking spectacular falls)
goshin jutsu – personal safety and self defence.
Important
Please arrive at least 10 minutes early so class can start on time.
Students must have clean feet and wear shoes to the dojo door.
What to wear
Teens should wear loose and comfortable clothing that covers knees and preferably elbows (but a T-shirt is fine). We can provide a gi (training uniform) when you are ready. A gi is typically $35 to $40.
Our commitment
We have years of experience teaching kids and teens and we use that experience to ensure your child not only benefits greatly from training with us, but also has a great time doing it.
We provide a safe, appropriately challenging and mutually respectful environment to support students in learning at their own pace. Our training is non-competitive and non-aggressive.
Instructors are accredited coaches certified through the Australian Jujitsu Federation under the National Coaching Accreditation Scheme administered by the Australian Sports Commission.
Instructors comply with the requirements of the Working With Children Check administered by the Office of the Children's Guardian.