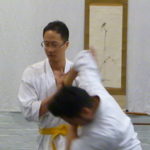 Well done to everyone that graded on Thursday 14 June!
All candidates demonstrated a high standard of kata and a good understanding of aiki basics.
Thanks to Mike for his feedback and assessment. Thanks to Mel for the pics.
Thanks also to everyone who came out for dinner afterwards, it was lots of fun.
Farewell Blake and best of luck in Christchurch!